Nine-Hole Magic Folding Super Hanger 10Pcs Hanger
₨ 1,000 (-10%)
[contact-form-7 404 "Not Found"]
Qty. 6 Rs. 1000 | Qty. 12 Rs. 1400 (DeliveryCharges @ Rs. 200/-Applied)
This 2020 Latest 9 hole Magic Hanger Save Wardrobe Space!It is really frustrated when you see your wardrobe is full and no space to hang clothes. And it is also hard to find clothes to wear when things in closet are just a mess.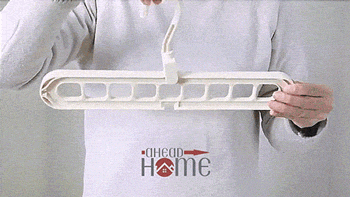 Features:
Super Space Saving – 1 Nine-hole Magic Hanger can hang 9 clothes! After hanging clothes, you can rotate and fold the hanger to hang vertically. You will see that there are so much extra space this hanger help you save!
Thickened Design – The hangers are made of high-quality PP material, thickened design and durable. The edge of the hanger is round and smooth, so it will not hurt your hands and protect your clothes
360 Degree Rotation –  The track has built-in buckle so this hanger can be rotated and hung vertically or horizontally to maximize home space, keep shirts, pants and shirts organized, wrinkle free
Strong Load Bearing Capacity –  High quality PP material make it strong enough to hang 6 kg items.
Specification:
Material: Plastic
360 degree rotation, Thickened design
Size: 33cm x 18cm x 1.6cm
Package included:
6 x  Nine-Hole Hanger @ Rs. 1000
12 x  Nine-Hole Hanger @ Rs. 1400
Delivery Charges @ Rs. 200/-
Vendor Information
Vendor:

admin
Address:

3.83 rating from 238 reviews